Oxbridge Interview Course
Here's the course schedule:
The schedule below shows you how the day will run. You will either have your mock interviews at 13:15pm or 15:30PM, depending on which group you're in. You'll be with a group of students applying for the same (or similar) subjects. The tutorials will all be tailored to your course.
Want more detail about each session? Click the buttons below to learn more.
We don't like to waste time giving generic and boring talks so we'll dive right in!
You'll get a short talk with a Senior Admissions Tutor on what interviewers are looking for as well as how to get the most from today (trust us, you'll want your cameras on for the day to get your money's worth!). We'll give you a short summary of how the mock interviews in the afternoon will work and then reinforce the key message – Oxbridge interviews aren't a test of knowledge but instead test application of knowledge.
No, you won't need to know the periodic table off by heart or have read all of Shakespeare. But yes, you will need to be able to engage with your interviewers in solving multi-step problems or interpreting texts.
Students are often given materials (texts, images, graphs, models) to examine and interpret in their interview. These aren't designed to test your knowledge but your ability to think laterally and generate novel ideas.
You'll work through multiple types of 'unfamiliar materials' – depending on your exact subject, these could range from graphs to extracts from a poem to electron micrographs. The main thing is that you won't have seen it before (and if you have, we'll quickly move onto something you haven't!). This tutorial is designed to teach you how to work your way through unfamiliar material in a structured and logical manner. By the end of it, you'll have a solid framework on how to approach these types of questions successfully; for example when presented with a new graph, start off with the basics first e.g. with graphs, comment on the axes, units, trends etc.
More than 70% of Oxbridge science applicants are asked to do some form of calculation or estimation in their interview. For students who haven't seen these types of questions before, these can be quite intimidating e.g. How many litres of water is there in the world? Or "How much does the Earth weigh?"
You'll work through a series of these types of questions – you'll develop a solid system that you can use during your real interview to allow you to get to the real answer whilst minimising the chances of errors. You'll focus on important tools like standard form and also drill how to structure your answer in a logical manner as well as how to use rational assumptions in order to get to a reasonable solution. This is the tutorial which student's find most helpful as it's quite easy to improve in a short period of time with a small amount of teaching.
Humanities interviews can be difficult because there is often no 'right' answer to many questions. However, there is a right way of approaching them. This tutorial is all about practicing your ability to present, substantiate and defend arguments.
You'll go head to head with your tutor – they'll play devil's advocate (very much like your real interviewers will). You'll debate and tackle questions with no obvious 'clear and easy solution' such as "Which is better – capitalism or communism?" and "Are fair trade bananas really fair?" Ultimately, you're being prepared on how to structure and construct logical arguments rather than the exact content itself. There are basic techniques that you can use in your interviews to help you advance arguments in a logical manner and this is what we spend this tutorial focusing on.
Oxbridge interviews are renowned for their obscure questions such as "How do we know the moon isn't made out cheese?" or "How is DNA like sheet music?". As you might imagine, there are no 'correct' answers to these – but there are certainly incorrect responses!
You'll work your way through approximately 6-10 questions (depending on your group's interactivity!). These will be directly related to your field and you'll have the opportunity to turn the tables on your tutorial leader too (if you'd like!) to see how they'd approach these questions. We'll cover the big 'no-nos' when approaching these type of questions and also leave you with some memorable responses to some particularly challenging questions (Design an experiment to disprove the existence of God!).
These tutorials are designed to increase your breadth and depth of knowledge so that you have a wider portfolio of things to discuss at your interview.
This is your opportunity to learn a topic at a much greater level than all other applicants. The exact topic will vary depending on your subject but it will be structured and operate like a 'Cambridge supervision' or Oxford Tutorial' – exactly what your real interviews will be like.
For example, a medicine tutorial may discuss the paradox that radiotherapy is used to treat cancer although radiation is known to cause cancer. Or a physics tutorial may discuss why the night sky is dark in an infinite universe.  Similarly, a chemistry tutorial may focus on why all known life is based on carbon rather than any other element; an English tutorial may discuss how war has shaped literature in the 20th century or an economics tutorial may focus on what caused the recession and if it was preventable.
Whatever the topic, you'll leave with a deeper understanding of a micro-niche in your subject that you can (hopefully) 'wow' your interviewers with on the day.
Get real world experience with 2 subject-specific mock interviews.
Your interview performance will often mean the difference between an offer or rejection. Our highly feedback-driven mock interview experience will allow you to get to get the real-world experience you need to feel confident and perform on the day of your interview(s). Along with your two individual mock interviews, you will get the opportunity to observe and learn from an additional two mock interviews.
You'll get detailed feedback at every stage, both in verbal and written formats.
A truly engaging interview preparation course.
Exams.Courses don't run your standard, boring online course. We make sure the course is engaging, knowledge-rich, and laser-focused on ensuring you get the most out of it.
100% of students who have attended our courses rated their experience as 8/10 or above. You can book with confidence.
Learn how to be in the minority of students who get a place after their Oxbridge interview.
The large proportion of students who apply to Oxford and Cambridge are invited to interview. Of this proportion, just 16% are ultimately offered a place. In order to be amongst that elite 16%, you need to outperform the other 84% at your interview.
% Students Interviewed: Cambridge
75%
% Students Interviewed: Oxford
45%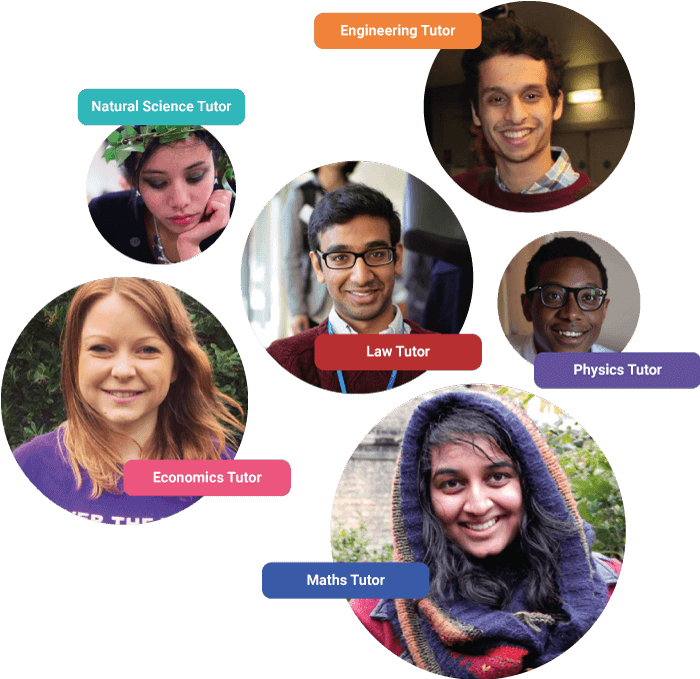 The course is tailored to your subject choice.
This course runs with multiple subjects simultaneously. This means that you will be split into subject groups at the beginning of the course, and you will stay with your group for the rest of the day. All your tutorials are in your small groups throughout the day. 
You'll get a subject-specific tutorial from an expert tutor who studies your subject, then you'll go into mock interviews with two different tutors.
No generic information. No irrelevant tips. Just the information and practice you need to get your place at university.
Got some questions you'd like answered?
You'll need a copy of your personal statement, and the ability to take notes. Apart from that, make sure you review your personal statement in advance and have a big breakfast (you'll need it).
It takes us a lot of time to organise tutorial group leaders and mock interviewers that are directly relevant to your subject. If you let us know at least 5 days before the course, we'll issue you a full refund but after this point, we can't issue any refunds.
This really depends on your subject. We cap the group sizes to eight students. You'll be in a group with students that are applying to the same subject or similar subjects to you. So you won't find a maths and English student together but may find an Engineering and Physics student in the same group. We try to make the groups as small as possible and subject specific as possible so you get the most from the day.
Yes you do and this isn't negotiable. You won't be able to do your real interviews without a camera on so it's vital that you have it enabled throughout the course duration. If not, we may ask you to leave until you can fix it. Sorry! But it's for your own good, we promise!
If you need any help or have any other questions about the course, drop us a line at t[email protected] or give us a call on 07868 787726.
Our friendly team will get back to you as soon as possible.